Speaking in Tongues: A Critical Historical Examination, Volume 1, is now available at Amazon.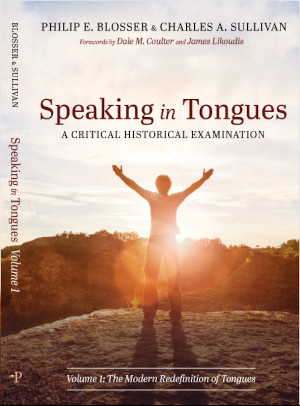 This three-volume series traces the various perceptions of the Christian doctrine of tongues through its beginnings until the early 1900s.
The first volume focuses on the 1800s and onwards: the emergence of the Pentecostal movement and glossolalia. Inside, you will find the reasons why glossolalia became the dominant interpretation in all the primary and secondary books and how the Pentecostal outburst at Azusa street started as the traditional definition but quickly shifted afterward to a heavenly, angelic, or prayer language.
This series covers abundant materials in Greek and Latin Ecclesiastical texts that most did not know existed. The coverage of Medieval and Reformation influence has historical twists. The changing tongues of Azusa street will surprise you. No other publication comes close to its level of detail. The series also covers Hebrew, Aramaic, and Talmudic works as well.
The book is aimed at academic and theology experts. A layman's guide is developing and may come out in a year.
Endorsements of this work include Cardinal Leo Raymond Burke, a member of the Supreme Tribunal of the Apostolic Signatura. One of the higher levels in the Catholic hierarchy, and Dr. Dale Coulter, "an ordained minister in the Church of God (Cleveland, TN) and professor of historical theology at Pentecostal Theological Seminary."1