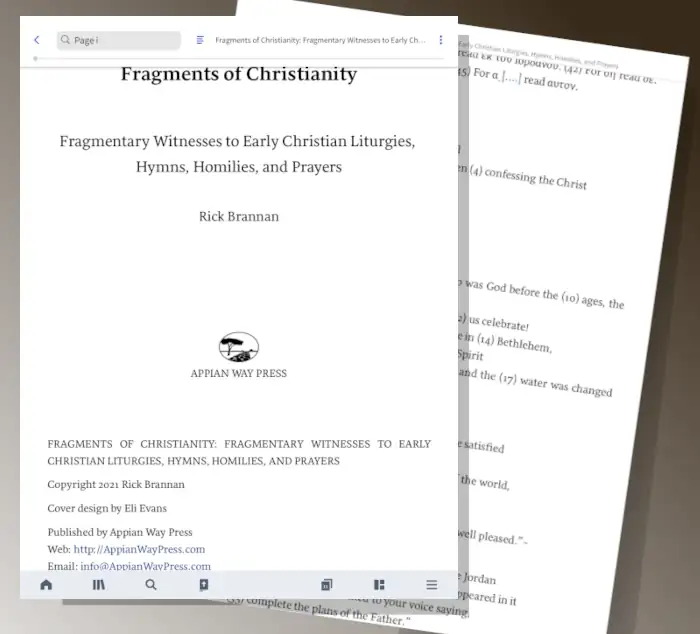 Fragments of Christianity: Fragmentary Witnesses to Early Christian Liturgies, Hymns, Homilies, and Prayers, is an excellent resource on early Christianity. Every early Church historian or lay reader interested in the daily goings-on in the primitive church should have this work.
The author, Rick Brannan, has put much effort into analyzing, comparing, translating, and commenting on the various texts he has collated.
His work reveals the depth and beauty of the various facets of early church liturgies.
He provides the Greek transcription and an English translation as part of his framework which is very helpful and thorough. The etymological difficulties of the words is a massive challenge for any translator of early Christian texts. It is a complicated process which Brannan performs with ease. His comparative work with the Greek elements and similarities found in the Septuagint and Greek New Testament is an incredible piece of sleuthing. I looked at his work with awe.
For those who do not know Greek, that is not a problem. Most readers can ignore his Greek transliterations and learn solely from the English translations.
The manuscripts he chose are diverse in regions, times, and purposes. He focused on texts from different geographical locations and times which avoids simplistic stereotypes. He delved even into the use of amulets. An amulet is anything such as a cross, piece of clothing, image, or a combination of words that endow one with protection or fortune.
As an enthusiast of early Christian documents, this is one of the better works that have come across my desk. I am sure to read over and refer to this one many times.
Fragments of Early Christianity can be found at Amazon, and a digital edition at Logos.
Another luxury about this book is the cost. It is affordable. Other similar works can cost five times or more.
The digital version found at Logos was the basis for this review.