An English translation of Andrew the Fool speaking in tongues. As found in the Vita S. Andreae Sali by Nicephori Presbyteri.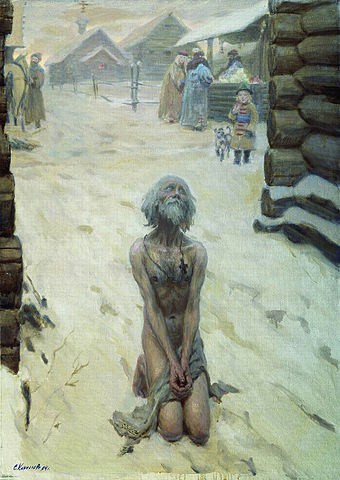 Andrew the Fool, often cited as Andrew of Constantinople, or Andrew Salus, was a christian follower known for his odd lifestyle that would be classified under some form of a mental illness by today's standards. However, many biographers believe it was a ruse purposely done by Andrew. There is a rich tradition of holy fools in Eastern Orthodox literature.
The Eastern Orthodox Church holds that holy fools voluntarily take up the guise of insanity in order to conceal their perfection from the world, and thus avoid praise.

Some characteristics that were commonly seen in holy fools were going around half-naked, being homeless, speaking in riddles, being believed to be clairvoyant and a prophet, and occasionally being disruptive and challenging to the point of seeming immoral (though always to make a point).1
The greater part of Nicephore's narrative illustrates the tenth-century perceptions of mental illness. However, the aim of the Gift of Tongues Project is not to cover this aspect but a fourfold-purpose in pursuing the subject of speaking in tongues.
There are two small but important snippets on speaking in tongues found here. The first narrative describes both Andrew and a servant miraculously switch into the Syriac language for the purpose of conversing privately. This circumstance allowed both parties to speak freely while others in the same room did not have the ability to understand what they were talking about. The second one was where Andrew had the spiritual ability to see inside people's lives and name their secret sins. Added to this miracle was the supernatural ability to speak to each person about their innermost secrets in their native tongue. Once again, the supernatural ability to speak in a foreign language was for the purpose of confidentiality. Whatever was spoken was strictly between Andrew and the person. Andrew's miracle eliminated any possibility of public shame.
Andrew was a Slav by birth and an educated slave. He was released by his master due to his alleged insanity. He lived during the tenth-century in Constantinople.2 He is a saint in the Eastern Orthodox Church. His name hardly registers in the annals of Western Christianity.
There are two brief references to him speaking in tongues. Here is a translation of the actual texts relating to his speaking or arguably the people miraculously hearing him speak in their language.
First reference to speaking in tongues
Translated by Charles A. Sullivan from the Greek as found in Nicephori Presbyteri. Vita S. Andreae Sali. MPG. Vol. 111. Col. 699-702
---
While these were chatting about things, one of the slaves of Epiphanius, who was appointed for his father's catering, recognized with spiritual insight the Venerable One's calling (how he knew such things, God only knows). This one sat at his feet, entreating God with tears that he would be imparted such works himself. The righteous man knew what it is, the very thing the servant was earnestly pleading provision for. Wishing to converse with him alone, he was transformed by the power of the Holy Spirit along with the speech of the servant to a language between them, and the Venerable One remained seated, and was speaking to him in Syriac in everything that he wanted. The servant furthermore said "except that I am not worthy nor should I entreat to you such things that would beget equality." Then the Venerable One replied to him that "you cannot bear the sweatings and the digging of ditches in regards to this fame, seeing that the way is of oppression and of infinite toil and distress. Remain rather as one with godliness and dignity being trained under your lord Epiphanius the great things for you and the matters respectful of salvation,3 fleeing fornications, grudges, and the list of the other remaining passions. What is the need for you to subject yourself with such punishments?" Then the servant said to him, "If you therefore wish to give ear to me about my misery, say to me you cannot do this." Then these matters were heard, the Venerable One fell silent.
61. Epiphanius, seeing the sudden4 change of language by his servant which he never learned to speak, he reckoned in his heart these things and spoke, "Blessed of a miracle! The Holy Saints can do so great a work! The Blessed One beseeched of the Lord for the servant, a grace on behalf of this person's request, what then he was going to become, and a voice came to him saying: "This is not helpful, back off from this undertaking! Show him how great a matter it is, he should not aspire such things like your low stature." Therefore, the Blessed One spoke to the Angel standing nearby. "Fill the cup of pleasure, from which the grace upon grace has flourished for me." Thus, the angel of the Lord completed the task. And the Blessed One said to him, "Υοu will drink this resting on my feet." Then immediately, he was given to drink the thing unable by normal people to see5 and the servant began to do a similar appearance to the divinely inspired father Andrew, which upon seeing this, brings a smile to the joyful one. On the other hand, Epiphanius, seeing the matter unfolding, was disturbed, fearing lest he should bring any kind of indignation by his father, so he said to the Blessed One, "I require of you, servant of God, not to do this thing inside the house of my father, lest at some point he would regard you with contempt6ἐξουδενωθείσῃ cannot be found in most popular Greek dictionaries, is it a regional variation of ἐξουθενωθείσῃ? This is how it is translated here. and God shall be blamed instead of goodness, and you can witness him hating and cursing me to the ancestry, and after that moment never bring you again. I therefore beseech and request that you do not dismiss my trivial request. Remember one day my love of your household servant."
---
His second reference to speaking in tongues
Translated by Charles A. Sullivan from the Greek as found in Nicephori Presbyteri. Vita S. Andreae Sali. MPG. Vol. 111. Col. 703-704.
---
As they seated around him, the Blessed Andrew saw with a keen eye of understanding the work of each one, and with what kind of error each one had committed. And wishing that he could help them, having turned around, he began to give a speech, uttering a certain parable. So these people were listening and feeling shame regarding the words of the Venerable One, as if they carried a flame with reverence, these were numb from shuddering, some were confused and fearful, others who felt ashamed were withdrawing. For indeed, in the simplicity of the Righteous one, the speech sharply named the sins of everyone — both in what manner and how they committed them. And then this occurred: he identified the sins in each person's language. The people who are captivated by this event said, "This man is acquainted with the things about me."
---
A few technical notes
This text is based on the Greek found in Migne Patrologia Graeca. I am sure there are other better versions available, but finding those versions so far has eluded me. So, the MPG copy will have to suffice. An English translation is already available, The life of St. Andrew the Fool : edited by Lennart Rydén but only a few select libraries carry this item throughout the world. Rather than attempting the cumbersome and time-consuming task of interlibrary loan, I translated the pertinent sections about tongues myself.
Nicephori Presbyteri's writing style has very many similarities to another local writer during that period, Michael Psellos. Both incorporate a wide vocabulary of Greek languages, Attic, Doric and Ionic and like to write in a Greek faux-renaissance fashion. Nicephori's writing style is B grade because the author is not always clear with his subjects and predicates. There are points in the writing where the reader/translator is forced to fill in some missing thoughts.
The idea of speaking in tongues being for the purpose of private, confidential instruction is unique among the shifting tides of the christian doctrine of tongues throughout the centuries.