A history of speaking, interpreting, and reading from 500 B.C. to 400 A.D. in Judaism and early Christianity.
An interactive infographic to help you navigate Paul's world and how these offices later evolved in the Christian Church. Clicking on the image will bring you to the full interactive site.
IMPORTANT! Please note that the interactive file was an experiment in coding and design. The end result is that you have to wait a bit longer before the file is rendered, especially on mobile phones. My apologies in advance.
Paul's mention of speaking in tongues in I Corinthians is deeply wrapped in the Jewish identity. The same goes for his understanding of speaking, reading, and interpreting of tongues. These rites have a rich history that goes well over 800 years. The initial origins are deeply connected to the times of Ezra.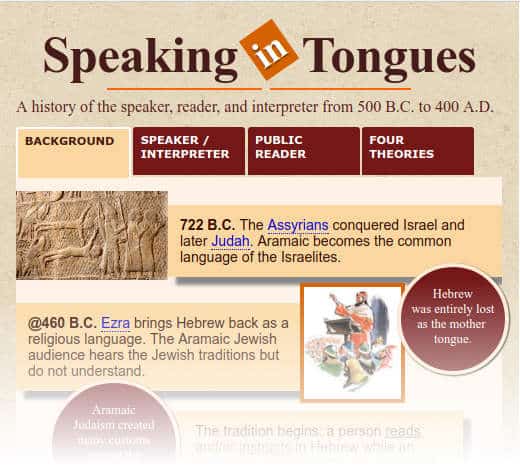 Here is the link to the Corinthian Tongues Infographic if clicking the image does not work.
The reference to speaking and interpreting in Paul's first letter to the Corinthians is entirely distinct from the miracle of Pentecost—for information about Pentecost see A History of Tongues in the Catholic Church and related articles found at the Gift of Tongues Project.
The customs of speaking, interpreting, and public reading are deeply embedded in Jewish tradition and inherited by the early church. Paul, if he was alive today, would be surprised at how the modern interpretations are so different than his intentions.