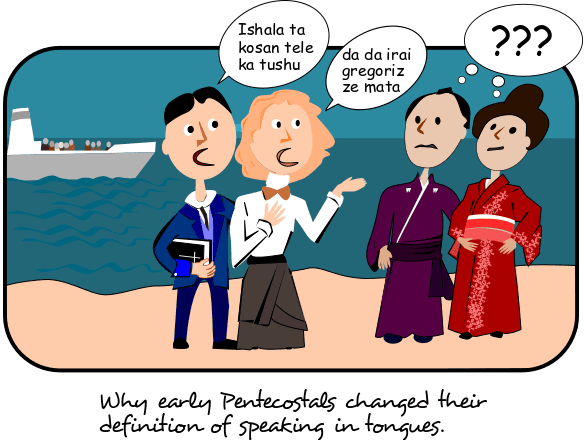 An indepth look at the development, expansion, and failure of Pentecostal missionary tongues and a critical public that called it gibberish.
Early Pentecostalism and especially the Azusa Street outbreak of tongues in 1906 caused a revival in the practice of speaking in tongues. The outbreak initially continued a traditional one that parallels Christian history for over 2000 years. The early Pentecostals understood that certain individuals were inspired by the Holy Spirit to miraculously speak a foreign language. When this occurred, there was some perceived divine revelation on what language the person spoke. They understood this knowledge as a sign for the person to go to the people group or nation to tell the Good News. Unfortunately, this fervor was badly hit by a dose of reality. These Pentecostal missionaries arrived at their destinations and found that they did not have this ability.
The above conclusion is a surprise to most Pentecostals and Charismatics and will evoke great suspicion. The rest of this article is dedicated to substantiating and further clarifying this problem with copious details.
The focus of this essay is on the crisis of Pentecostal tongues. How they went about and solved this theological dilemma by creating a distinct and revolutionary new doctrine of tongues is found in the following article, Solutions to the Pentecostal Tongues Crisis.
Before proceeding one must understand the idea of the tongues doctrine developed in the 1800s called glossolalia had not yet influenced the Wesleyan or Holiness movements. Glossolalia is not part of the initial story that culminated at Azusa Street. It comes later.
Table of contents
The Missionary Tongues Movement
Holiness and the majority of American and British Protestant churches during the late 1800s held on to the traditional definition as the miraculous ability to speak in a foreign language. For many during the period, it was not the definition of speaking miraculously in a foreign language that was a problem, but whether the gift ceased in the early Church. The Holiness based movements and those influenced by them believed the traditional version had perpetuated and had begun to develop a sense it was specifically for missionary expansion. The following will demonstrate this concept in detail.
C. T. Studd, a young missionary with China Inland Mission, wrote about promising the claim of Mark chapter 16. This chapter has one verse that asserts that believers shall be empowered to "speak in new tongues." When C. T. Studd and seven others arrived in China in 1889, they thought they had been empowered to speak in a language the Chinese could understand. While attempting to speak supernaturally, he wrote: ". . .they did not understand us at all at first at Hanchung—thought us idle fanatics." They were embarrassed and quickly learned that God wanted them to study the language.1
The Christian Missionary Alliance Church waddled through the missionary tongues issue in the late 1800s. One can track the concept to an unnamed author who wrote in the Friday, February 12, 1892, Alliance periodical. The writer believed that everyone should cautiously seek the supernatural ability to speak in tongues for every foreign missionary endeavor. On the other hand, it should not be assumed to happen in every circumstance:
Certainly we do expect, in every case where it is claimed by humble believing prayer, a supernatural assistance in acquiring the native language, and we should not be surprised in any case to hear of the direct bestowal of the power to speak an unknown tongues. But we are not prepared to teach this as a definite scriptural promise for all who go to preach the Gospel to the heathen, or consider a lack of faith on the part of any worker who has not received this special gift.2
Almost six months later, another article was posted in the Alliance magazine by a young missionary by the name of W. W. Simpson (no relation to A. B. Simpson) eager to go to Shanghai, China. He was hoping for the promise in Mark 16–a text that many people in the Holiness movement perceived as the ability to acquire a new language miraculously. If Simpson did not acquire this divine aptitude, then he would study.3
The founder and leader of the Christian Missionary Alliance, A. B. Simpson saw that this missionary shortcut to learning foreign languages was a consistent problem with Bible college students training for the mission field. He finally stated in 1898:
In our own day there is the same strained and extravagant attempt to unduly exaggerate the gift of tongues, and some have even proposed that we should send our missionaries to the foreign field under a sort of moral obligation to claim this gift, and to despise the ordinary methods of acquiring a language. Such a movement would end in fanaticism and bring discredit upon the truth itself. We know of more than one instance where our beloved missionaries have been saved from this error and led to prosecute their studies in foreign languages with fidelity and diligence, and their efforts have been rewarded by supernatural help in acquiring languages in a remarkably short time, but not in despair of proper industry and the use of their own faculties under God's direction in acquiring these languages.4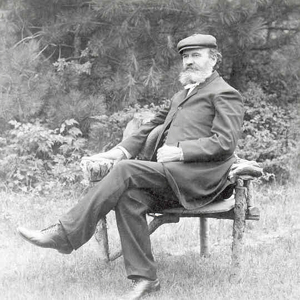 W. B. Godbey was a revered Wesleyan preacher and one of the most popular and influential speakers in the late 1800s. He felt the immediate supernatural ability to speak in a foreign language was becoming more apparent in his time and noted missionaries in Africa were fulfilling this promise. He was excited that this was "amid the glorious prophetical fulfillment of the latter days."5
The story then moves over to one of the Pentecostal founders: Charles Fox Parham, He was a self-appointed itinerant/evangelist in the early 1900s who had an enormous early contribution to the modern tongues movement. It was his teaching and missional emphasis that encouraged a number of his followers, especially Lucy Farrow, and later William Seymour to go to California and be major patrons in the Azusa Street Revival.
Parham was heavily influenced by A.B. Simpson, and two other controversial notables during this period: Alexander Dowie and Frank Sandford. What they all had in common was the restoration of the primitive church and the imminent coming of the end.
Simpson has already been described. Dowie's contribution was a mystical one that impacted Parham and gave him authority to inquire within the supernatural realm but there was little correlation with tongues. Sandford had a direct effect on Parham's view of speaking in tongues. Sandford was a speaker full of charisma and passion that attracted over 600 followers who resided in a community controlled by him named Shiloh in Durham, Maine. He was a Christian mystic with apocalyptic ideas who mixed British Israelitism, modern missions, and divine interventions in the everyday life. 6
There was an outbreak of tongues speaking in Sandford's commune that Parham observed while visiting. This excited Parham who believed the supernatural imposition of foreign languages was a precursor to the end. 7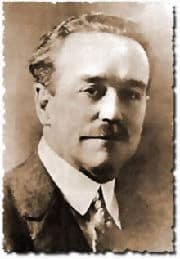 Secondly, he learned from Sanford's tract, "The Everlasting Gospel," about a woman named Jennie Glassey given the miraculous ability to speak and draw and sing in foreign languages. Unfortunately, I do not have access to this information, but another publication by Sandford called Tongues of Fire described Glassey's giftings in detail:
May 31. This has been a day of waiting on God to get further orders. Had the joy tonight of hearing Brother Black and Sister Black and Sister Glassey sing a part of the ninth Psalm in an African tongue. Sister Glassey has at different times spoken while in the Spirit, in Greek, French, Latin, German, Hebrew, Italian, Japanese, Chinese, and several African dialects, words and sentences given her by the Holy Ghost. She has also written many letters of the Greek and Hebrew alphabet. Words in as many as six of these languages have been recognized as such by one who has studied classics, thus proving the genuineness of God's gifts to our sister. He who said, "They shall speak with new tongues" is proving his words true, thus enabling one like Sister Glassey to preach the "everlasting gospel" to any soul on this globe, with the necessary language at her disposal.8
With all the evidence at hand, the variables led to one deterministic conclusion, the end was nigh, and the era of the supernatural was about to begin. Parham and students of his Bible school in Topeka, Kansas, sought this gift and it happened on New Year's Eve 1901 – Agnes Ozman began to miraculously speak and write in Chinese for three days, unable to speak English.9
Thus began the germination of a new movement that would go beyond the figure of Parham himself. This is where the story now turns west to Los Angeles.
See Charles Parham on Speaking in Tongues for more information.
All roads in the Pentecostal movement point to Los Angeles in some particular way. A place where a small church called the Apostolic Faith Mission led by William Seymour, a student of Charles Parham, was just beginning. The name of the church is secondary to its location; 312 Azusa Street. This is where the first outbreak of tongues had become viral news for the first time in almost 70 years after the London-based Irvingites whose practices gained international attention and awoke the doctrine out of a long slumber.
The Azusa experience in 1906 brought speaking in tongues to the international attention of the religious community and the curiosity of both local and national newspapers. Clara Lum and Florence Crawford, editors of the official newspaper of the Azusa Street Revival called the Apostolic Faith believed it to be the supernatural endowment of a foreign language. The Apostolic Faith had copious citations of people miraculously speaking in numerous foreign languages.
The following early 1970s video is a short excerpt from Mattie Cummings, who was present at the initial Azusa gatherings when she was eight-years-old and recalls the miracle of speaking in foreign languages. She does not mention any other alternative definitions. She was interviewed by the noted Pentecostal historian, Vinson Synan.
See also the first edition of the Apostolic Faith Newspaper at the Pentecostal Archives site. The newspaper unequivocally promoted tongues as a miracle of foreign languages.
The Missionary Tongues Dilemma
However a serious problem surfaced almost immediately with the gifting of missionary tongues. Those missionaries who went out to a foreign land with the presumption of having the miraculous ability to speak the language of their target group found upon arrival that it didn't work.
This tension was especially noted with Alfred and Lillian Garr. Alfred and Lillian were high-profile personalities in the holiness movement that received their baptism with speaking in tongues at the Apostolic Faith Mission. Their names frequently appear in the earliest Pentecostal literature. The Garr's came from a Methodist background and educated at the well-known Asbury Theological Seminary. Over time, the Garr's departed from Methodism and joined a holiness movement called the Burning Bush. The Burning Bush leaders requested them to lead a church in Los Angeles. It was through this move that Alfred visited the Apostolic Faith Mission and received his baptism and speaking in tongues. His wife joined shortly after in this experience. In a church experience where Mr. Garr was speaking in tongues, he believed a man from India understood that he was speaking in a number of different languages of India, one of them certainly in Bengali. It took less than a year for Garr and his wife to depart for India and start a new life. When they arrived in India, they discovered the gift of tongues did not follow.
A Pentecostal leader in England, A. A Boddy, had succinctly asked A. Garr about his gift. Did the supernatural endowment help Garr when he arrived in India? Did others similarly empowered also demonstrate this phenomenon? Garr answered that he did not have the ability. Neither did he see any others succeed. He wrote that the supernatural language he possessed had changed many times before he arrived and was no longer of use in his present circumstances. This problem did not shake his faith, because he believed God gave it, and even though it did not help at the moment, that was good enough for him.
See Garr's Missionary Crisis on Speaking in Tongues for the actual letter.
This sort-of admission took some time to develop. Lillian Garr wrote to the Apostolic Faith Newspaper's April 1907 edition stating that 13 or 14 missionaries and others had received Pentecost while they lived in India, but she omitted any reference to tongues-speech. Rather, she shifted the emphasis to interpretation, song, writing in tongues and other manifestations.10 Some months later the Garrs announce that they no longer were involved in evangelistic efforts because of the linguistic barrier. They shifted focus to equip long-term missionaries who already had these skills.11
Allan Anderson, one of the foremost authorities on Pentecostal history states that many so-called endowed missionaries were disillusioned upon arrival, but does not elaborate.12 The recognition of disillusionment is rarely documented in any Pentecostal works.
Why these people did not confirm these languages by a reputable authority or seek affirmation from a respected native speaker in the language they purported to speak before leaving for the mission field is odd. This omission adds another level of mystery in the whole narrative.
The Gibberish Movement
A second problem immediately became apparent. The public perceived those speaking in tongues as the childish babbling of fanatical adherents. The tabloids began turning to a mocking tone and viewed such practices as a form of entertainment—an alternative to the circus. For example, the New Zealand Herald, April 3, 1908, reprinted an article from a London newspaper with some added commentary. The author followed a Pentecostal service in Islington — a borough in London, England.
The newest sect of rabid revivalists had a fit of temporary insanity last night (says the London Express of April 3) at a small hall in Upper-street, Islington.

The show was held under the auspices of "Holy Brother" Wilson, an Irish-American, assisted by another "holy brother," who, by his accent, should be of the same nationality.

(The writer narrates different portions of the service and then adds) . . .The "gift of tongues" was loudly invoked, and the gift arrived a little more quickly than anyone anticipated. An anaemic looking girl in the middle of the hall rose to her feet, and let out a yell like a steam siren:—

"Ouchicka—ouchicka—ouchicka,

Hoo—hoo—hoo.

Havaa—howaa."13
The Apostolic Faith church in Los Angeles faced similar criticism. The Los Angeles Times wrote a 1906 piece titled, Weird Babel of Tongues. The condescending and outright mocking tone of the article was a dominant feature. Below is a digitized version on how author described the church service and speaking in tongues: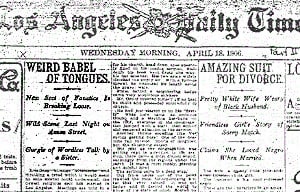 "You-oo-oo gou-loo-loo come under the bloo-oo-oo boo-loo;" shouts an old colored "mammy;" in a frenzy of religious zeal. Swinging her arms wildly about her, she continues with the strangest harangue ever uttered. Few of her words are intelligible, and for the most part her testimony contains the most outrageous jumble of syllables, which are listened to with awe by the company.

Let Tongues Come Forth

One of the wildest of the meetings was held last night, and the highest pitch of excitement was reached by the gathering, which continued to "worship" until nearly midnight. The old exhorter urged the "sisters" to let the "tongues come forth" and the women gave themselves over to a riot of religious fervor. As a result a buxom dame was overcome with excitement and almost fainted.

Undismayed by the fearful attitude of the colored worshipper, another black women [sic] jumped to the floor and began a wild gesticulation, which ended in a gurgle of wordless prayers which were nothing less than shocking.

"She's speaking in unknown tongues;" announced the leader, in ah [sic] awed whisper, "keep on sister." The sister continued until it was necessary to assist her to a seat because of her bodily fatigue.14
These reported experiences in the newspapers forced a perception that early Pentecostals had serious difficulty in proving otherwise.
There were insider challenges from the movement itself. People like Charles Parham and W. B. Godbey did not believe that the Azusa participants were speaking foreign languages and railed against them.15 However, one must keep in mind that there may have been political and personal problems between Parham and the Azusa Assembly that eventually led to Parham's disassociation or dismissal. The tongues issue may have been a retaliatory measure.
Representatives of the Christian Missionary Alliance went to a Pentecostal meeting in Chicago to assess the movement and struck a more conciliatory tone than Parham and Godbey. They concluded that the experience was not representative of Pentecost but more like what St. Paul described in his letter to the Corinthians – "a means of communication between the soul and God."16
In 1908, a Baptist minister turned psychologist and then president of Colgate University, G. B. Cutten, looked at the issue from a psychological perspective and deduced that it was nothing more than an emotionally inspired state by those who were of the lower class and didn't know any better.17
These factors pushed the movement to a crisis point. Either they had to admit that the tongues outbreak was incorrect or redefine the experience.
How did they resolve this tension? This can be found in the next article: Solutions to the Pentecostal Tongues Crisis.
Additional Reading
A New Kind of Tongues.
How the definition of tongues changed somewhere between 1906 and 1907. A summary and link to Gary B. McGee's excellent article on the Pentecostal movement in the late 1800s and beyond.

Missionary Tongues: T. B. Barratt and the Soon Coming King.
Author Geir Lie, "an educator and archivist of Northern European Pentecostal history" reflects on the missionary tongues of early Pentecostalism.

Garr's Missionary Crisis on Speaking in Tongues
A copy of the letter from Alfred Garr to A. A. Boddy, editor of the early Pentecostal magazine, Confidence, on why Garr's supernatural tongue of Bengali did not happen when he arrived to India.