The following is a journey into identifying speaking in tongues through Hebrew and Greek Jewish traditions.
This is an introduction to a series of articles devoted to this subject.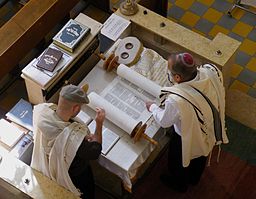 Researching Jewish traditions about speakers and interpreters has uncovered two very important customs that are so close to Paul's narrative that it would be hard to call them accidental parallels. The first solution relates to the reading out loud of Scripture in Hebrew with an immediate translation in the local vernacular. The second one is the custom of instructing in Hebrew and providing a translation into the local language.
There is also a third alternative: the use of Aramaic as the language of worship and education  in conflict with the Greek Corinth assembly constituents. This could be a solution if more information comes forward. For the time being it will be relegated a distant third option and only small snippets of this subject will be addressed. The majority of this series will be devoted to the first two concepts.
These first two options have existed all along but few have paid attention to them in the Christian community. This Jewish-centric approach has been minimized for two reasons: antisemitism and ignorance of Jewish literature in both Catholic and Protestant communities, and the hyper-emphasis on the Greek and Latin cultures to exclusivity by rationalist scholars in the 1800s.
The option of instructing in Hebrew with a translation into the local language best fits the Corinthian narrative. However, the rite of public reading in Hebrew with an immediate translation into the local language does have some strengths that cannot be discounted. The solution could even be a mixture of the two.
Read moreA Jewish-Greek Perspective on the Tongues of Corinth